It started with a single flower in front of Departure 3 at Schiphol, but it's a sea of flowers, cards, stuffed toys, pictures and letters now and it keeps growing and growing every day. We stopped by when we picked up Sabine from the airport and – while it's impressive to see on TV or a picture – the real thing takes your breath away. It's massive and the sweet scents of the flowers are a strong contradiction to the atmosphere of sadness. In the middle of the hustle and bustle that goes on at a busy airport, it's a quiet place where people come to pay their respect. Wasn't a happy moment, but I'm glad I decided to go.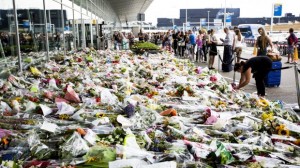 Ever since the crash I've felt so much pain inside, I guess the whole country did. The crowd was up to 7 rows deep when the funeral cars travelled from the airport to Hilversum, where a team of experts will try to identify each victim.
Just a few hours ago there was a newsreport that the first person was identified. It's a male, Dutch, and his family and mayor of his hometown have been notified. One… so many more to go. It might take months before everyone is identified and maybe not every coffin will get a name attached to it, as some bodies were destroyed due to the explosion. So much pain and sadness, so many families mourning, so many futures forced to a halt and because of what? Senseless!!
Today was the memorial service for Inge en Gijs, the couple from our village. They were a happy, funloving couple and had many friends. In fact, someone said: it was impossible not to like them, they were the life of every party and managed to attract people to them, charismatic, open, social, loving life.
May they rest in peace and may their family and friends find a way to cope with this huge loss.