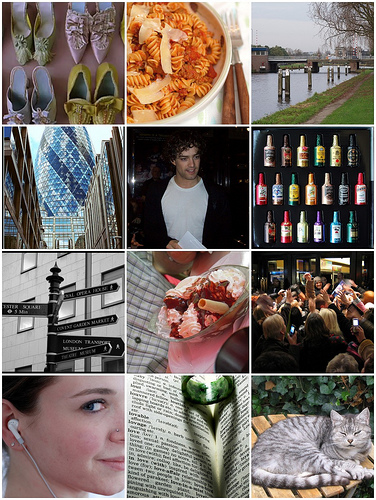 Found this one here, and I loved the idea! It took me quite some time, but I'm happy with the results.
The concept:
Type your answer to each of the questions below into Flickr Search.
Using only the first page, pick an image.
Copy and paste each of the URLs for the images into fd's Mosaic Maker.
The Questions:
What is your first name? Antoinette
What is your favorite food? Italian
What high school did you go to? Chr. Scholengemeenschap Leiden Zuid-West
What is your favorite color? Blue
Who is your celebrity crush? Lee Mead
Favorite drink? Cointreau
Dream vacation? London
Favorite dessert? Dame Blanche (vanilla ice cream with hot chocolate sauce)
What you want to be when you grow up? West End Star
What do you love most in life? What, not who… hmm.. Listening to music
One Word to describe you. Loyal
Your flickr name. dutchsparky58 (nothing showed up, but I chose a pic of my cat Sparky)
Share your creation on your blog, upload it to Flickr, even add it to The Game pool.
Credits: 1. Marie Antoinette's Shoes, 2. Sunday's supper ~ rotini w/ Italian sausage & simple tomato sauce, 3. Hofland bridge, 4. Blue Color Gherkin of London, 5. Lee Mead, 6. Anthon Berg Chocolates, 7. london crossroads, 8. Dame blanche, 9. Fans for Joseph, 10. 20/365: Listen to the music, 11. Love is…, 12. Sparky