One thing I definitely wanted to visit when we were in London, was the Princess Diana Memorial Fountain in Hyde Park. Somehow I never managed to get there. If you keep the map of Central London in your mind, we're always at the far right side of the map, while the fountain is at the far left side. It may not seem much on paper, but believe me, it's a huge distance (got blisters to prove it, lol).
The day before we left for London, we found out that there were dresses of Diana on display at Kensington Palace, where she used to live. So we decided to go there and – if possible – visit the fountain on the way back.
I've been a huge admirer of Diana. Saw her on three occasions and was smitten by her beauty. While we visited another exhibition at the Palace, we turned a corner and were confronted by a HUGE picture of Diana. My heart missed a beat, OMG she looked ravishing. I felt the sadness again, to die in such a terrible accident, so young, so beautiful…
It was weird seeing her dresses on display at such close distance… To think that she actually wore them… Beautiful fabrics and designs, and such a small waist! It was a bit disappointing that there were only 12 dresses on display, grouped together in a glass "box", we'd thought they'd be in one of the huge rooms, where they would get the attention they deserve. But nevertheless, it was wonderful seeing them.
When we left Kensington Palace we still had some time before we had to pick up our luggage at the hotel and make it to the airport, in time for our flight home. Even though we were completely knackered, we tried not to think of our poor feet and legs and headed for the fountain, and I'm so glad we did. Although I thought it would be bigger, the environment is beautiful. It was a sunshiny day and people were sitting in the grass, others had their feet in the water to cool down, kids were playing and while it was busy, it was also a place of tranquility, weird combination.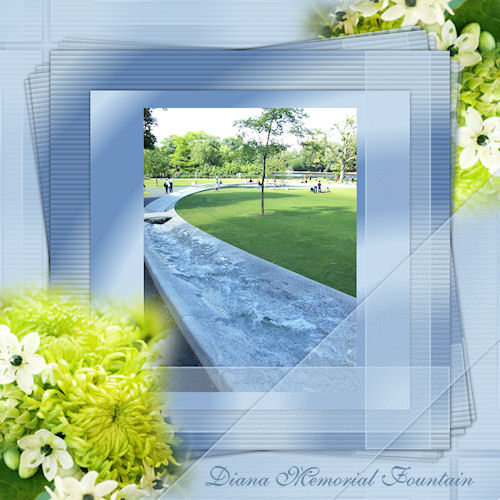 While Inge sat down and put her feet in the water, I walked around the fountain, taking pics and trying to soak in the atmosphere. The bottom of the fountain is made of different sculptured textures, which make the water flow at different speed and noise levels. I can only agree that the trust opted for this memorial fountain, instead of the often suggested statue. No statue could emphasize the actual being of Diana: "The People's Princess". The fountain is for the people, as was Diana.
Credits: Layout adapted from a tutorial at Silmaril Designs.