While searching for a layout to post at Flaunt Thy Layout, I thought I was going crazy. I was sure I did post a layout with Manon in Baker Street Tube Station, but couldn't find it anywhere. Then 'the quarter fell' (Dutch expression 🙂 ) it must have been one of the posts that got lost with the move of my domain *sigh*
So… here I go again…
I remember I was trying to create the 'torn paper' look, and struggled to make it look real enough. Finally after hours of trying I was happy with the results, but how to check if it was good enough. I asked my hubby (who has no clue about DS or graphics what-so-ever) if he could recognize the things on my screen. 'Yeah', he said, 'Erm… is that…, erm… that looks like torn paper (?)'.
Good answer, mister!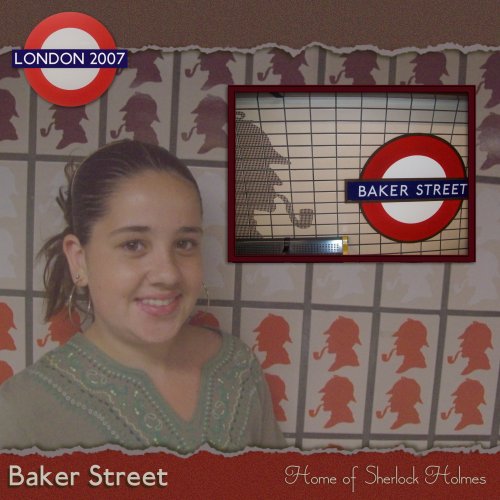 According to the books by Sir Arthur Conan Doyle, Sherlock Holmes lived at Baker Street 221b. The Baker Street Tube (= Underground) Station commemorates the fictional Sherlock Holmes' association with Baker Street. The ticket hall has beautiful arches and the profile of Sherlock Holmes is printed on the tiles. I just love the colours.
At Baker Street 221b you will now find the Sherlock Holmes museum. Check their website where many complete stories, starring Holmes & Watson, are available for your reading pleasure 🙂