I couldn't wait to start scrapping the pics from Disneyland. Did two so far, but there will be more 🙂
I never saw Tim Burton's 'Nightmare before Christmas', but fell in love with Jack & Sally at Disneyland. The 'actors' playing the characters were so funny, we had a good laugh at the Meet & Greet. Both Sabine and Rink bought a sweater with Jack's head on it.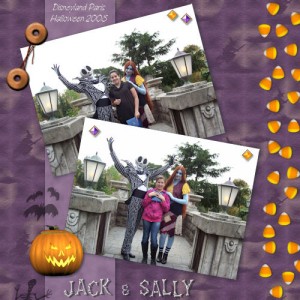 We couldn't take a picture at the entrance the first two days of our visit, because the sun was shining in the girls's eyes and they looked ridiculous. Too bad it rained on the last day, but I still think the Disneyland Hotel in the background looks gorgeous. *If* we ever win the lottery, we're going to stay there.