For a long time, I've wanted to do this, but never got round to it. This year I decided to stop procrastinating and go for it! I asked Karen for help, as she knows a lot of people in the Scrapbooking world and together we're proud to present: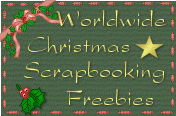 Worldwide Christmas Scrapbooking Freebies, a one stop Christmas Freebies Blog, where you'll find (in due time) a list of Bloggers who are offering Christmas freebies – in December 2008 – for everyone to enjoy!
Problem is… there's no list yet 🙂
If you're a designer and want to participate, please leave a comment with your email addy, or send a note to my hotmail.com address, username is dutchsparky58 and I'll send you the details asap!
No matter how many people will participate, the list will be there… even if it's only me 😀 But I have every confidence in the generosity of Digital Scrapbooking Designers, so I'm sure there will be a somewhat longer list 🙂
Watch this space!