Welcome to Day 17 of my DS Christmas Freebies 🙂
If you're not sure what this is, check the Announcement please
Here is my Christmas Wish QuickPage, made with my C is for Christmas Freebie Kit. The Christmas Card is made from a tutorial by Mar at Jumbo-psp.com (TY!), included was a tube I used for the stationery, the stamp is made by me 🙂
Journaling:
What happened to the little girl in the picture from 2000?
She turned into a teenager with a mind of her own, who thinks she's ready to conquer the world, preferably without the interference of her parents.
I sometimes see that little girl popping out when you snuggle up, hugging me.
My Christmas wish for you… don't grow up too fast! And always be faithful to that little girl inside you.
Merry Christmas darling, I love you very much.
Mom xxx

(Click to view 500×500 file)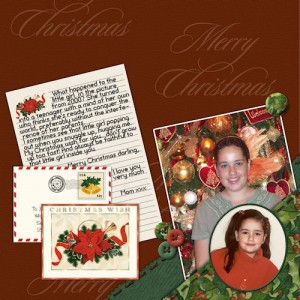 Enjoy!
Download link:
Christmas Wish QuickPage Sparky 7,79 MB