I read three books in three days.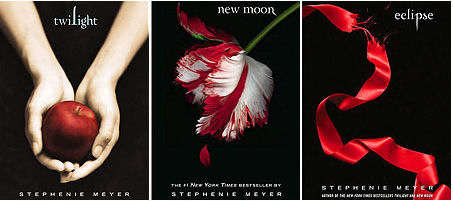 I postponed it as long as I could, as I don't like vampires.
The thought of them frighten me. In fact, I stay far away from any story that includes monsters, snakes, ghosts, weird creatures, etc. etc. It's really amazing that Harry Potter swept me off my feet as I just don't like reading scary things.
I'd never have bought the books, as I don't like vampires.
Manon got them from the school library and was smitten with them. She finished Twilight and left it next to my bed. I started reading… and couldn't stop. Finished it in a day and couldn't wait for her to get home so I could borrow her edition of New Moon. Same goes for Eclipse, but I finished that one before Manon did. Now I have to wait until Breaking Dawn is available at the library, and I hate that!!
I was apprehensive at first, as I don't like vampires.
But the romance between Bella and Edward just grabbed me. I'd never thought I'd wish for the leading lady to be kissed by a vampire, but I did. I won't post any spoilers, in case someone hasn't read the books yet, but I will say that the triangle kept me on my toes – and at some point I had a lump in my throat.
Not much changed. I still don't like vampires. But some of them have a special place in my heart, and a certain werewolf as well. I must be mad!
Stephenie Meyer, I salute you!