While working on a Digital Scrapbooking layout, I was searching the net for a quote about nature or snow, but couldn't find anything that really captured the meaning I was looking for.
Then I woke up the grey cells and started thinking about how I felt when I walked into freshly fallen snow – which is heaven to me by the way. The tranquility, the silence, everything enwrapped by those tiny flakes floating gracefully from above, turning the ugly grey world all beautiful and radiant.
Yep, I get carried away when it comes to snow 🙂
Then I wrote, without thinking:
When snow falls, nature listens
Because that's what happens you know – everything else keeps shut and is focused on the falling snow. I thought it was so appropriate.
As I look back on that layout, which was one of my very first DS layouts, I'm not completely pleased with it, so I made a new layout using my quote with my graphics and here it is: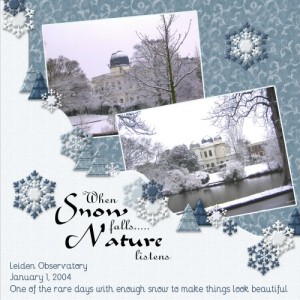 After a while I sent the quote to my favorite Quote-website: The Quote Garden, and I'm thrilled to see my name there, together with famous people like Dickens and Shakespeare 🙂 I may never be a famous author, but darn I made it to the Quote Garden 😀
Since then I found the quote on different sites, thankfully all people had the decency to credit me for it.
So I'm a happy camper… now all I need is snow!