Be gentle people, this is the first full tutorial that I've written and I have to admit, writing tutorials  is harder than it looks. Many many thanks to all the people who put tutorials online! I would never have learned how to use PSP, without those tutorials. I'm quite comfortable with PSP now, but I know there's still a lot to learn, so keep those tuts coming!
As I love to pass on my knowledge, here's a tutorial by me. I use PSP X2, but I'm sure it can be done with other versions as well. Although I don't know if all versions have the ability to put dropshadows on a new layer – a feature I absolute LOVE – the tutorial can be done without it.
Special thanks to Jill, for trying it out 🙂
Here's a close up of the padded letters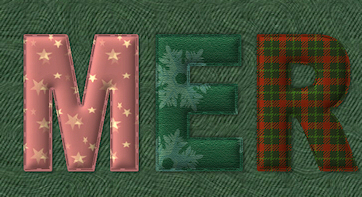 The tutorial is a pdf file, click here to download it. You'll need Adobe Reader to open the file, which you can download for free here
Please don't link to the pdf file, but to my Blog instead – Thanks!