It arrived – DOUBLE YAY!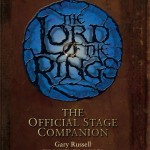 Read more about the book here


Ever since I saw the musical in London, I've been looking for this book. It was for sale at Amazon, but the sellers wouldn't ship to Holland, because of the size of the book. Checked other sites and learned that it was out of print. Some people asked ridiculous prices, as – according to them – the book was now a collectors item.
Felt stupid for not buying it when I saw it for sale *before* I saw the show. Almost gave up hope and really didn't think I would ever get it. Until I checked the website of one of my favourite London shops Dress Circle and there it was! Ordered it, got a confirmation (whoot) and a day later an email telling me the item was out of stock 🙁
But… just two days later I got a confirmation that the book was on its way and today it arrived! Can't wait to read it. It smells wonderful (love the smell of new books) and it looks gorgeous. Lots and lots of production photos – which brings back memories of seeing the show.
Pictures from lotr.com According to lotr.com: THE LORD OF THE RINGS completed its run at the Theatre Royal Drury Lane, on 19 July 2008 after playing to over 700,000 people.
Immensely popular with UK audiences of all ages and with international visitors to London, this extraordinary show will continue with The Lord of the Rings World Tour in 2011.
The Lord of the Rings creative team is developing the touring version of the show, flexible enough to tour across the world while retaining the unique, thrilling and spectacular theatrical magic of the original London Production.
Producer Kevin Wallace said "The show's creative team has proven just how enchanting, exhilarating and powerfully entertaining The Lord of the Rings can be live on stage. We look forward to presenting the show to new audiences abroad from 2011."
I can only hope this is true… would love to see it again!