I love the monthly challenges at my DS forum, where we create kits according to a theme. People submit color swatches, we vote and many coordinating kits are created. When the theme for May was announced – Art Journal – I had visions of what I thought my kit should look like. I made a color swatch… and forgot to submit it! So, for my forum challenge, I had to use a totally different color swatch, but mine kept popping up in my head and I decided to let the creative juices flow and see what would become of my visions.
I started with a few background papers, but kept adding more. Of course it helped that I'm on a 2 weeks+ holiday, with loads of time to spend in PSP.
The kit is huge and I will add freebies to my blog day by day, so you have something to look forward to (or, never come back once you've seen the first images :p)
To give you an impression, here's a layout I made with some of the graphics. It's my oldest daughter Manon with my (step)granddaughter Dewi. Dressed in pink, perfect for the kit, which has many shades of (what we call in Dutch) 'old-pink'!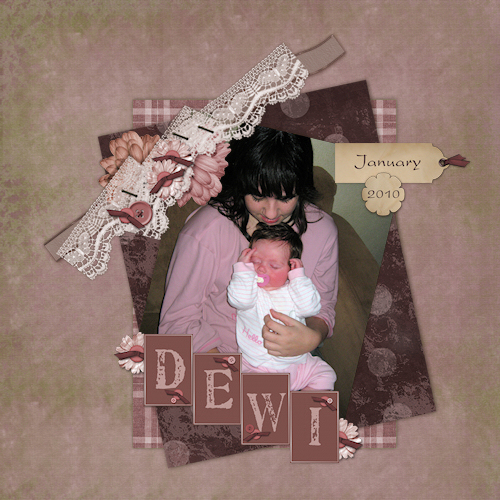 I still have to write the TOU, put everything in folders and upload the lot, but I hope to have something available for download soon!
Watch this space 🙂