The Internet is an amazing thing, it really opened up the world and gave us the opportunity to meet people from another country we wouldn't have met otherwise.
Years ago I met Karen from Scraps of Mind online and we visited each other's Blogs regularly. I was lucky to meet her in person when she visited Amsterdam in 2009.
This year she planned another holiday to Europe, including a stop in Leiden, as I suggested I'd be her tourguide when she would return.
As promised, on a sunny day in May (urgh – I'm so behind with my Blog posts!) I showed Karen and her daughter Seona the most important sights in Leiden (you can only do so much in a few hours). The weather was cooperating –  in fact it was so sunny that Seona got a sunburn! – had a delightful lunch in the open air, walked a bit more and then sat down for the rest of the afternoon on a sunny terrace where we drank our cokes and talked, talked, talked. I had an awesome time and I believe they did as well 🙂
Not only did I forget my thoroughly prepared tourplan, so I had to improvise, but I also forgot my camera. That's why I 'borrowed' the pic Seona took of Karen and me – as I have to give proof of the happy occasion!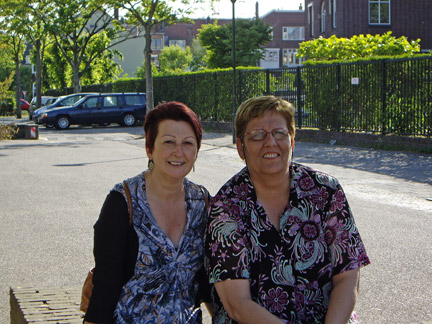 Thanks for a wonderful day, Karen and Seona, I won't forget Lady Mondegreen (sorry readers, inside joke) and I do hope to meet you both again 🙂