Yes, I admit it, I'm jealous of everyone who gets to celebrate Halloween! Although slowly more decoration stuff appears in the shops over here in Holland, it's not a real celebration. No trick-or-treating, no pumpkin carving, no dressing up 🙁
At first I didn't know what I missed out on… after all, you can't have the feeling of 'missing something' when you don't know what it feels like. But when we went to Disneyland Paris around Halloween in 2008 we experienced the atmosphere, saw the awesome decorations and we all fell in love with the spooky holiday.
I have a lot of boards on Pinterest. But not a Halloween board… though I think I have to give in and create one as I found so many gems online. I wanted to share, maybe there's something you haven't seen yet – if so, please leave a comment!
(Click the image to enlarge)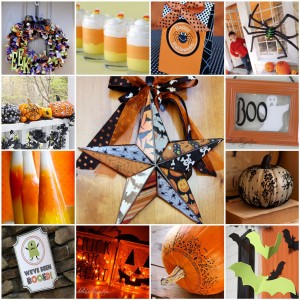 Linking to:
No Biggie – Spooky Star
Sassy Sanctuary – Halloween Rag Wreath
Glorious Treats – Candy Corn Cheesecake Mousse
Living Locurto – Spider Bag Printable
Family Fun – Spooky Spider
All You – Googly-eyed Pumpkin
Not So Idle Hands – Halloween Frames
The Swell Life – Candy Corn Vases
Better Home and Gardens – Lacy Pumpkin
The TomKat Studio – We've been Booed
Not So Idle Hands – Glass Halloween Blocks
Better Homes and Garden – Stenciled pumpkin
All You – Bat Template
I may upset the neighbourhood when I go trick-or-treating, but it won't do any harm if I put some Halloween decorations in the backyard, right?? 😀