Back in July Manon, my daughter, found something on the internet: Lucky Stars. I'd never seen them before but it turns out that it's something very old, used in the Japanese folding art 'Origami'.
They are so cute and when you have a bunch of them together, they really look lovely.
You can buy different sets of ready made strips in shops, some expensive, some cheap, but there are loads of them free available for download, just google for 'lucky stars paper'. It's a bit more work (and maybe more expensive) as you have to print and cut them, but there's a wide variety. I've learned that some people are having trouble finding them in shops, and downloading them from the internet is a great option.
But… while I was looking at the sheets of paper Manon was downloading… I thought: hey, I can do that and decided to design them myself 🙂
The first set I made is blue and each strip has Manon's name on it, but the possibilities are endless!
To help you on your way, here's a great video tutorial on folding the actual star
As Manon has been folding days on end – and believe me, you need A LOT of stars to show them off! We decided to put them in a glass jar. The effect wasn't really what we were hoping for. With so many colours and patterns together in 1 jar they looked messy.
So… on one of our regular Ikea trips, we found a set of 4 cuter than cute mini glass jars and bought one set, so we could see what the stars would look like when we sorted them (somewhat) by colour. We both loved the end results, so now we're forced *cough* to make another trip to Ikea and buy some more jars.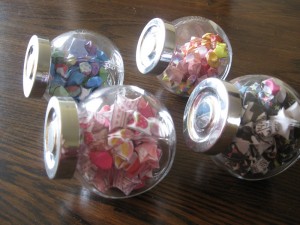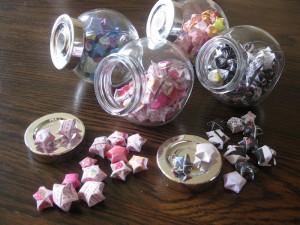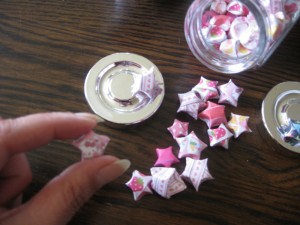 And as I've made several patterned papers, I'll put them here available for download.
Print, cut and fold – Have fun!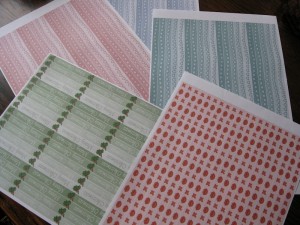 Download Lucky Stars Papers 3.1 MB