Although I tend to use Christmas decorations in traditional Christmas colours, like red, green and gold, I'm always struck by blue Christmas decorations. Probably because blue is my favourite colour.
I do like all shades of blue, but there's something special about the Baby/French/Pale blues (I've seen it being called many other names too). Thanks to Pinterest I found some gems and although I'm not sure my house – or even tree – will be decorated in blues only, I wanted to save them for future use. I could always throw in a few blue decorations and get a second (blue-coordinated) Christmas tree, can't I? :p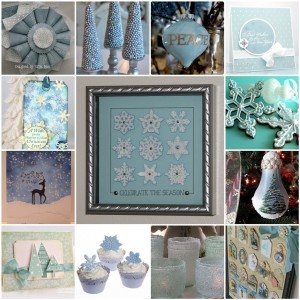 Linking to:
Celebrate the Season – Winter Frame
Christmas in the Limelight – Blue Ornament
All Things Heart and Home – Oh (Tiny) Christmas Tree
Ornament Party – Blue Peace Ornament
Card à la Carte – Blue New Years Card
Paperfections – Whimsical Copic Faux Bleach Snowflakes
Kuidaore – Snowflake Cookies
Splitcoast Stampers – Dasher in a Blizzard
Crafts by Amanda – Christmas Tree Bulb Light Ornament
Thinking Inking – Peace, Love, Joy
Kiwi Cakes – Snowflake Cupcakes
Crafts by Amanda – Epsom Salt Luminaries
Heritage Frame Project – technically not Christmas, but could well be adjusted
So many gorgeous projects available, where do I find the time??? Me and glue usually don't go together, but I have to admit that my fingers are itching to try some of the above crafts.
I hope you find something you just HAVE to try, and that the results will decorate your home in the happiest Season of all 🙂