Last year I received the Jacquie Lawson Advent Calendar as a gift from Jill (still thankful for that) and I enjoyed it so much I even wrote a blogpost about it 🙂
I was planning on buying one for sure this year as I didn't want to miss out on the fun. As my subscription to Jacquie Lawson's beautiful ecards was about to end on December 1, I received an email today, letting me know that if I renewed, I would get this year's Advent Calendar for free. Couldn't refuse an offer like that!
Although I enjoyed the Village Calendar and would've settled for the same graphics this year, to my delight, joy and… (can't think of enough words to express my happiness), this year's theme is LONDON <3 <3 <3
There's a 'no peeking' policy and the calendar won't start until December 1, but they've added a puzzle which you can play while waiting for the main calendar image ánd the first day to unlock.
Here it is… *sigh*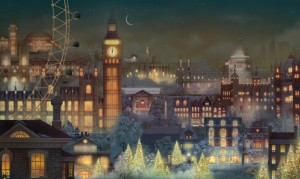 *and another sigh* Isn't it gorgeous?!! Can't wait for December to start!