A good time is coming, I wish it were here,
The very best time in the whole of the year;
I'm counting each day on my fingers and thumbs,
The weeks that must pass before Santa Claus comes.
Then when the first snowflakes begin to come down,
And the wind whistles sharp and the branches are brown,
I'll not mind the cold, though my fingers it numbs,
For it brings the time nearer when Santa Claus comes.

Author Unknown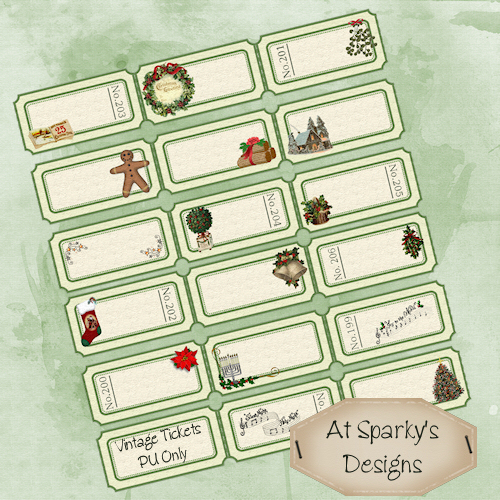 In this download you'll find all tickets in 1 png file, each of the 18 tickets in a seperate png file + the background paper. I've included one blank ticket so you can decorate that one yourself.
The tickets can be used for digital scrapbooking layouts, or as name tags (print them and glue them to your gift) but you can also use them for paper scrapbooking layouts by printing the one(s) you want to use.
Download Vintage Tickets 8.6MB