Translated (short version) from FreFocus
LISSE – Exactly 20 years after the opening of Disneyland Paris, 12th April 2012, the French theme park received a very special Dutch Birthday present: a tulip! Mickey Mouse came to Keukenhof in Holland today, especially for the official christening ceremony of the 'Disneyland Paris Tulip'.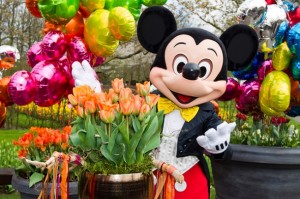 The tulip, a Double Orange Emperor, was cultured by Vervor Export from Ursem and is now officially called 'Disneyland Paris'.
Twenty years ago, one double Orange Emperor tulip was discovered by accident, in a field with several copies. The tulip was dug out and cultured on a separate field, which resulted – 20 years later – in enough copies to give the species its official name.
The tulip remained double all those years, which means that it has twice as many petals as a regular tulip, and it kept its intense orange colour. Thanks to this magical history there's no other tulip better named 'Disneyland Paris'!
The Disneyland Paris tulip is on display in Keukenhof as of today, but no less than 8,000 copies are planted in Disneyland. On a particular Dutch spot as well: the orange tulips can be seen round the Old Mill in Fantasyland!
The Disneyland Paris tulip is in good company: annually hundreds of thousands of Dutch bulbs are planted in Disneyland Paris, as part of the theming and decoration of the Resort.