Have you ever looked at gorgeous Digital Scrapbook layouts and wished they were yours? I have! There's a scrapper I admire immensely and I always say 'when I grow up I want to be as good as Mary' 🙂 Well, the growing up part isn't true – I don't think I'll ever grow up – but I sure wish I was able to create so many gorgeous layouts as Mary.
Each layout is unique, she obviously uses the artistic part of her brain differently than I do, as she comes up with angles and placement of pictures and embellishments, I would never have thought of. Yet, when I see them, they all make sense.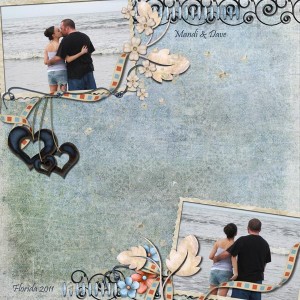 I know I have many scrapping friends, but if you're not a scrapper and you'd love to capture the memories you have on pictures and save them in an album, then I have news for you: Mary has started her 'Scrapper 4 Hire' business. You send her your – digital – pictures, tell her your wishes (colours, preferred graphics, wording, etc.) and she'll put it all together for you.
You don't have to believe me, go visit her Facebook page and check out her gallery of layouts. Or better still, stop by her Blog Sweet Maple Scraps and browse through her portfolio. I'm sure you'll be amazed!