Although it's hard to imagine I suppose there are people who don't know Pinterest yet *gasp*
Basically, it's nothing more than an online pinboard (but very addictive!).
My 'bookmark' list is long, very long, too long to keep track of all the great sites I found, eventhough I created folders and tried to put some order in them.
With Pinterest you cut down on your bookmarks. When you bump into a site or post you find interesting, just click 'pin it' and you can add it to one of your boards. You can shuffle your boards around, rename them and add as many as you want.
The great thing is that you can also see what other people have pinned. As people from different countries get totally different results when using search engines like Google or Bing, the people you 'follow' on Pinterest can find things you've never seen before. Bonus: you can 'repin' those images to one of your own boards.
So far, so good.
Let me continue by saying that I love tumblr. You can find gems: images created by other people on tumblr, with quotes or beautiful photoshopped images from their favourite band, movie, TV show, you name it. I sometimes pin those images to one of my pinboards, with a link back to the particular tumblr account.
Many tumblr accounts (dare I say: the majority..?) take images from the www without a link back and this is driving me crazy. Pictures of nature, scenery, ballet, fashion, etc., downloaded from the original site, uploaded to tumblr (or iheartit or any other 'collection' site) without giving credit.
I've also noticed that people on Pinterest download an image and upload it to their pinboards. Nothing more frustrating than seeing an image of – for instance – a chocolate cake, without a link to the original recipe. I hate sitting there drooling over a cake I want badly and not being able to make it!!
Not too long ago I found a tip on The Graphics Fairy about dragging and dropping an image to google and do a search, but the 'dragging and dropping' didn't work for me. Glad to say I found another way to do a search. It still takes a bit of work, but it's possible to find the original source of an image.
* Go to Google
* Click 'images'
You'll see a little camera icon in the Google searchbar

* Click the camera icon
It will ask you for a url (or you can upload an image you found somewhere)
* Open a new window and go to the image you want to investigate
* Right click and pick 'copy image url' (or something similar. My Google is in Dutch, so I'm not exactly sure what the English translation is)
To make things visible, I used an image of mine I pinned to my Digital Scrapbooking board.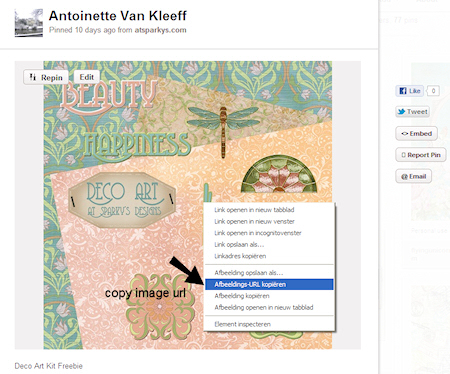 * Go to the other window and paste the url in the Google searchbar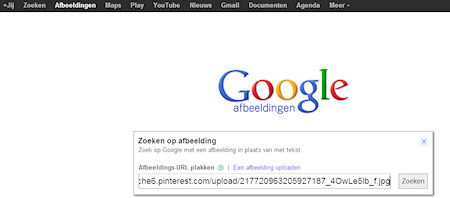 * Click 'Search'
You will now see the image and a list of links which use the image.
Sometimes it's clear where the image is from, usually one of the first sites on the list. Not always though. In that case:
* click 'all sizes' and you'll see all the sizes of the image used on the www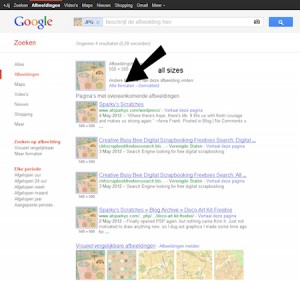 You can bet that the original source has the largest image – as it's the original – et voila, you have the source, and you can pin THAT image, which will link back to the original owner.
Unfortunately it's not always that easy, and I stumbled upon images which I couldn't trace back to the original source. In that case – as much as it hurts, as the images sometimes are so beautiful – I don't pin the image. I'd rather not use it than to pin it and not link back, or – even worse – link back to tumblr or a blog which obviously didn't create the image but found it somewhere on line.
Call me picky, call me strict, call me whatever, I just feel better when I know I'm linking back to the original.
And that's my lecture for today 🙂
If you're curious about which things I've pinned: FOLLOW ME
And if you want to add this post to one of your pinboards, just click the 'pin it' button below!
Happy Pinning!