Hahaha! What happened to 3 and 4, I hear you ask. Well, I still haven't sent #3 and forgot to take pics of #4, yep, that's me 🙂 But the recipient of #4, the lovely and sweet Mary, assured me that she would take pics once it arrives (long story, but it'll get there one day :D)
For #2 I signed up for a swap at the PocketLetterPals website, theme was Fall. I used a lot of wood veneer embellishments and coloured them with the StazOn Midi Ink Pads. A lovely neighbour donated a big part of her stock to me and I couldn't wait to try them out. Such lovely colours!!
Front

Back

Close ups
Front Row 1

Front Row 2

Front Row 3

Back Row 1

Back Row 2

Back Row 3

I love all the fall colours and had fun making this one. Unfortunately I don't know if my swap partner received this PocketLetter, nor if she liked it or not, as I haven't heard from her since. She did sent a lovely PL, so I'm grateful for that. I've heard of people who sent out their PL, but never received one back. I honestly don't understand why you would do that. I can understand if you sign up, something comes along and you're not able to create one, but all you have to do is let your swap partner know. And, call me old fashioned, but I think a 'thank you' is just good manners, whether you like the PL you received or not.
I saw pics of PLs that weren't to my taste, but I stepped in to this swapping thing with one thought on my mind: I want to create a PL I love, one *I* would love to receive, so that's what I do. Not everyone is creative and I appreciate the work and time that goes in it. Okay, some PLs may be less elaborate than others, but it's the thought and dedication that counts.
Okay, on to PL #5. I just HAD to sign up for this swap as the theme was: 'My Country/Hometown'. My swap partner was Melody from Canada and she sent me an awesome PL with lots of goodies!! Happy Mail 🙂
I wanted to do something with the colours of the Dutch flag (red/white/blue) and came up with this..
Front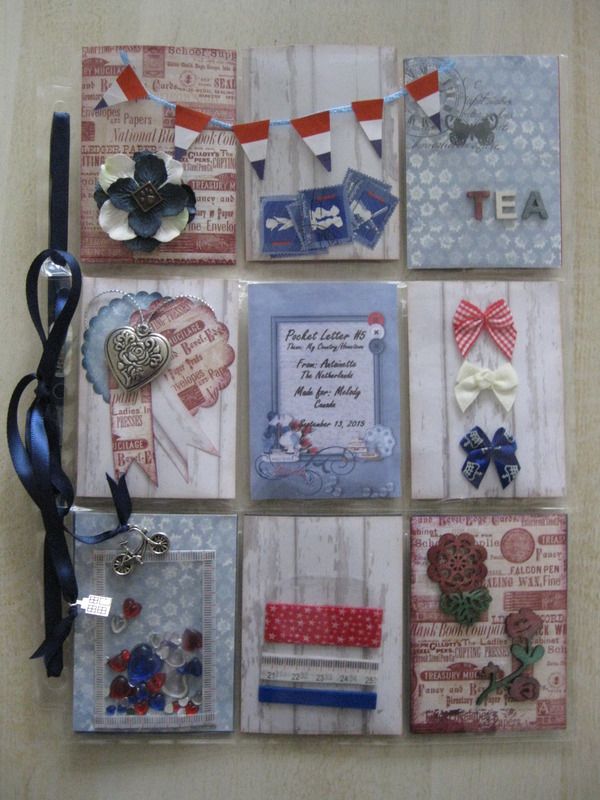 Back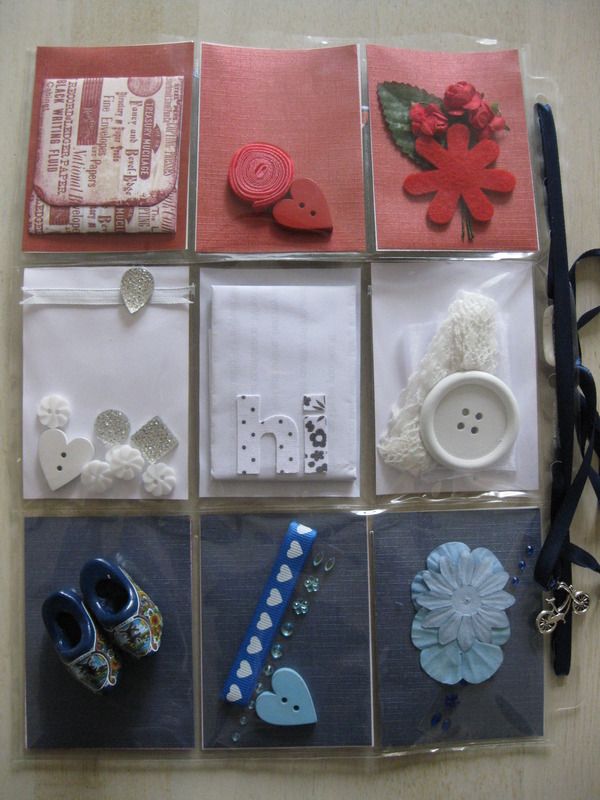 Close ups
Front Row 1

Front Row 2

Front Row 3

Back Row 1

Back Row 2

Back Row 3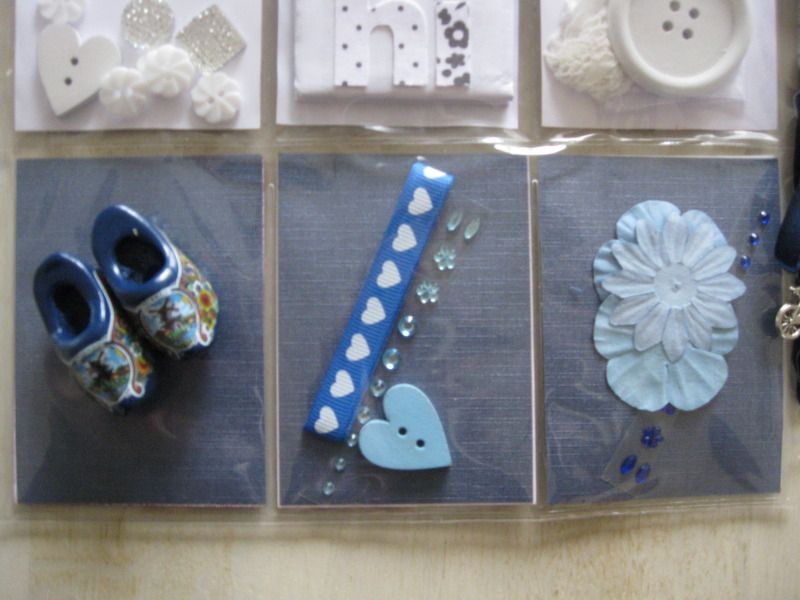 I always add a tea-bag with a Dutch Tea blend, but the packaging usually clashes with the papers, so I create a pocket using one of the PLs papers, and then it matches. COD you say? No comment!
The pair of mini wooden shoes (Back Row 3) is a fridge magnet 🙂 I love love love it! And of course the charms I picked: a bike and a Dutch house.
Had lots of fun with both PLs. I takes me hours, days, to put everything together, but that's part of the fun!
More to come, as I'm on PL 14 already (behind with posting pics – as always!)