For years I've been a fan of Jacquie Lawson and her team, the animated e-card company. The first card I saw, the Christmas Cottage, made my jaw drop and I couldn't stop playing it. Awesome graphics, combined with great music and wonderful animations. As there are so many beautiful cards, you just have to explore her site – after you finish reading this post of course

Knowing me, it won't come as a surprise that the Christmas cards are my favourites *wink* but the other categories have gems as well. Still, it's the Christmas cards that make me go back, any time of the year, just to get a 'taste' of Christmas.
A few days ago I received a notification from Jacquie Lawson.com and at first I thought someone sent me a Christmas card, but it was way way waaaay much better! It was an early Christmas gift and one that will bring joy each day in December (and I hope it will be available during the rest of the year too!)  The Jacquie Lawson Advent Calendar!
Each day a new animation is available and you can't peek ahead, lol, I've tried

The moment I start up my computer, a beautiful animated snowglobe appears in the corner of my desktop. Clicking that will open the village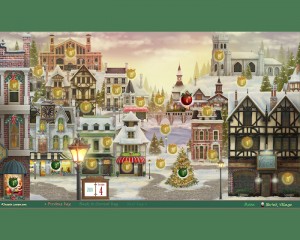 The date of today is highlighted and clicking that opens up a new animation every day. Day 1 was the Christmas Tree in the centre of the village, Dec. 2 a jazzband playing a Christmas song, Dec. 3 Bev's Coffee House and Day 4 (today) Cudleigh's Station. Each animation has its own music and I'm always looking forward to the next day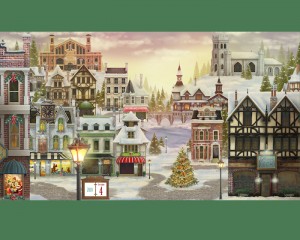 After viewing the animation, the baubles with the numbers in it disappear, but it doesn't leave a static village, even that is animated. Snow is falling, you can see people walking in the coffee house and every now and then the train leaves the station. Apparently there will be more snow on the ground further in the month. Can't wait!
The unexpected gifts are always the best, so thank you Jill from the bottom of my heart, for brightening my day.. no.. my month

It's the first thing I check when I get up, I can't help but view it a few times during the day and it's the last thing I watch before going to bed. For me, there couldn't have been a more fitting gift.
So, if you're looking for a great Christmas gift, hurry to Jacquie Lawson.com and send a Calendar to your friends, they will love you even more

Happy Holidays!